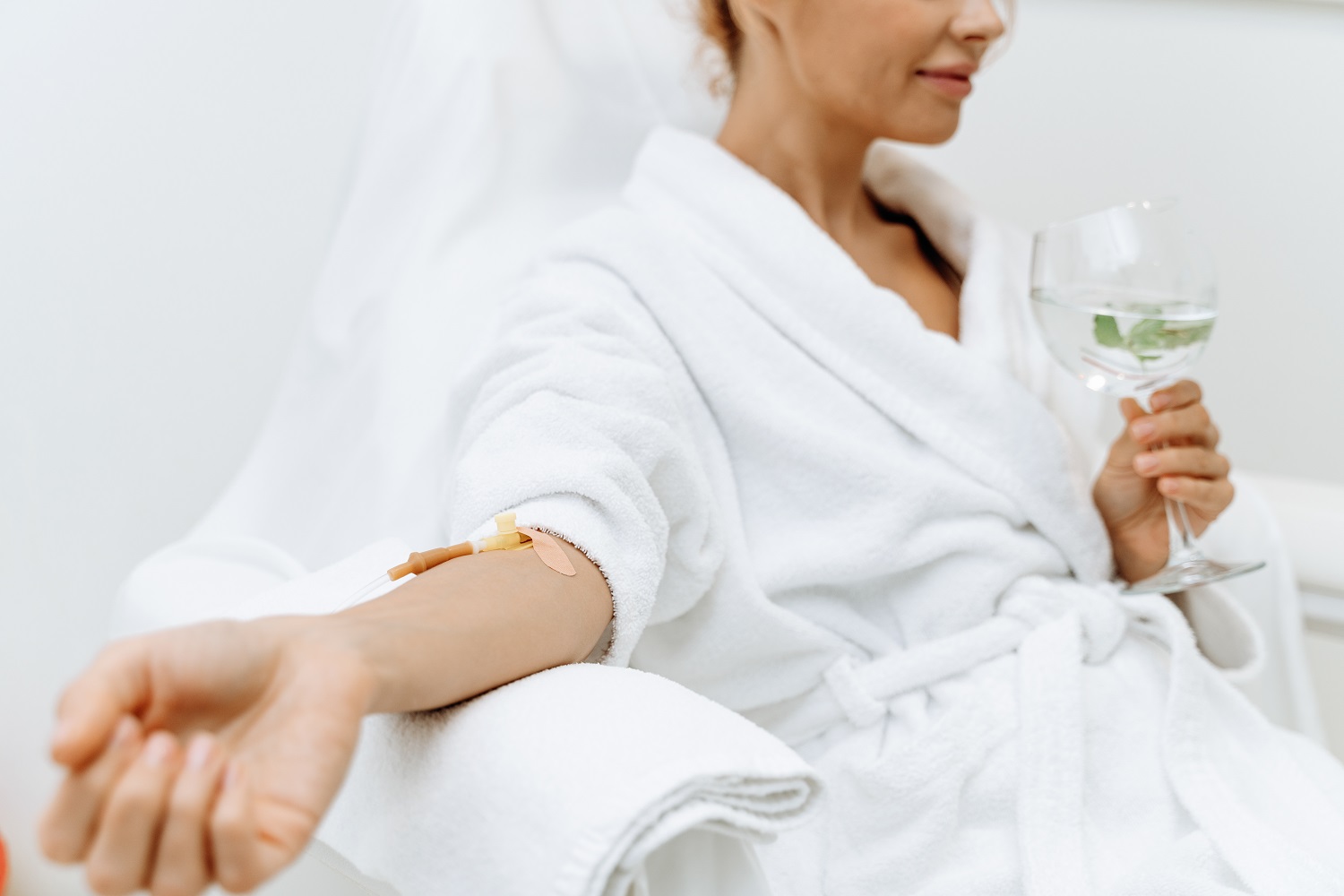 IV Therapy & Wellness Shots

in scottsdale, AZ
Nutritional IV therapy is an excellent way to help your body heal, prevent illness and give it the boost it needs. The IV Drip Lounge at Source of Health in Scottsdale, AZ ensures you are receiving what your body needs, so you can meet your health goals directly and efficiently.
Nutritional IV therapy is an efficient way to deliver nutrients, vitamins, and medications to your body very quickly while bypassing the digestive system. In IV drip therapy, the nutrients, supplements, or medication gets delivered through a liquid solution from an IV line and get delivered directly to the bloodstream.
IV Therapy Scottsdale Treatments
The IV Drip Lounge at Source of Health in Scottsdale, AZ ensures you are receiving what your body needs, so you can meet your health goals directly and efficiently. Our signature IV Drip, Guardian of the Galaxy, supports your immune function with antioxidants, vitamins, and minerals. Ideal for back to school, travel, allergies, and cold and flu season. We are able to customize IV Drips, to include ingredients to include powerful ingredients your body needs, making sure it receive essential nutrients to function optimally. The following are some of the ingredients that you can expect to be curated for your custom IV drip:
Benefits Of IV Therapy & Wellness Shots
WHAT IF I DON'T HAVE TIME TO DO IV THERAPY?
Don't have time for a full IV infusion? Try a quick boost from our Shot Bar. Mental clarity, detoxification, fat burning, and DNA protection are just a few of the many benefits of healthy B12 levels. (Methylcobalamin) Other important nutrients methionine, inositol, and choline (MIC) are added to create the "Skinny Shot" for improved fat metabolism.
Membership Programs are available at Source of Health for those who want to infuse health and vitality regularly at a discounted price. No co-pay or office consult required.
We offer the following shot boosters:
WHAT IS IV OZONE THERAPY?
Ozone is a form of oxygen (O3) that has been used medically for decades in Europe and the US. Autohemotherapy is an IV infusion consisting of a small portion of your own blood that has been mixed with ozone and is then returned to the bloodstream. Ozone Autohemotherapy has incredible blood cleansing properties that can help with infectious disease, by stimulating the immune system and its antimicrobial properties against infection from viruses, bacteria, and fungus/yeast. It can also help with circulation and metabolism, by improving the cellular utilization of oxygen that reduces ischemia in cardiovascular diseases, and provides anti-aging effects.
Frequently Asked Questions
Why Choose Source of Health?
Source of Health is more than just a medical spa and wellness practice; it's a sanctuary that seamlessly blends safety, efficacy, and luxury. Using state-of-the-art technologies, our adept professionals deliver results-driven, personalized care in a trusted and comfortable setting. Our conservative yet innovative approach is tailored to meet your individual needs, all while upholding the highest medical and ethical standards. This exquisite fusion of top-notch medical care and unparalleled comfort distinguishes the Source of Health experience, making us your premier destination for quality wellness and aesthetic services. Discover a haven where luxury and effective care coalesce, all designed with you in mind.
This place is incredible! No need for resort spa treatments anymore. They have an incredible array of treatments
I had the best experience with Lindsay Sorr. I went for a cool peel laser treatment and I am loving my skin. The texture and look of my skin is so smooth and vibrant. I am excited to go back for another treatment!
I love Dr Feria at Source of Health! She is beyond amazing! I go there for cupping and Sculptra treatments and I wouldn't go anywhere else! Besides the fact that she treats me like a friend who she genuinely cares about the treatments are amazing! And Tori at the front desk is always so sweet and happy! I'd recommend this place to ANYONE and EVERYONE!
Dr Sorr has been my naturopath for a year now and he's is very knowledgeable and professional to work with. I love getting my vitamins via drip therapy and keep up on my health with my doctor. Highly recommend trying him out and meeting the staff.