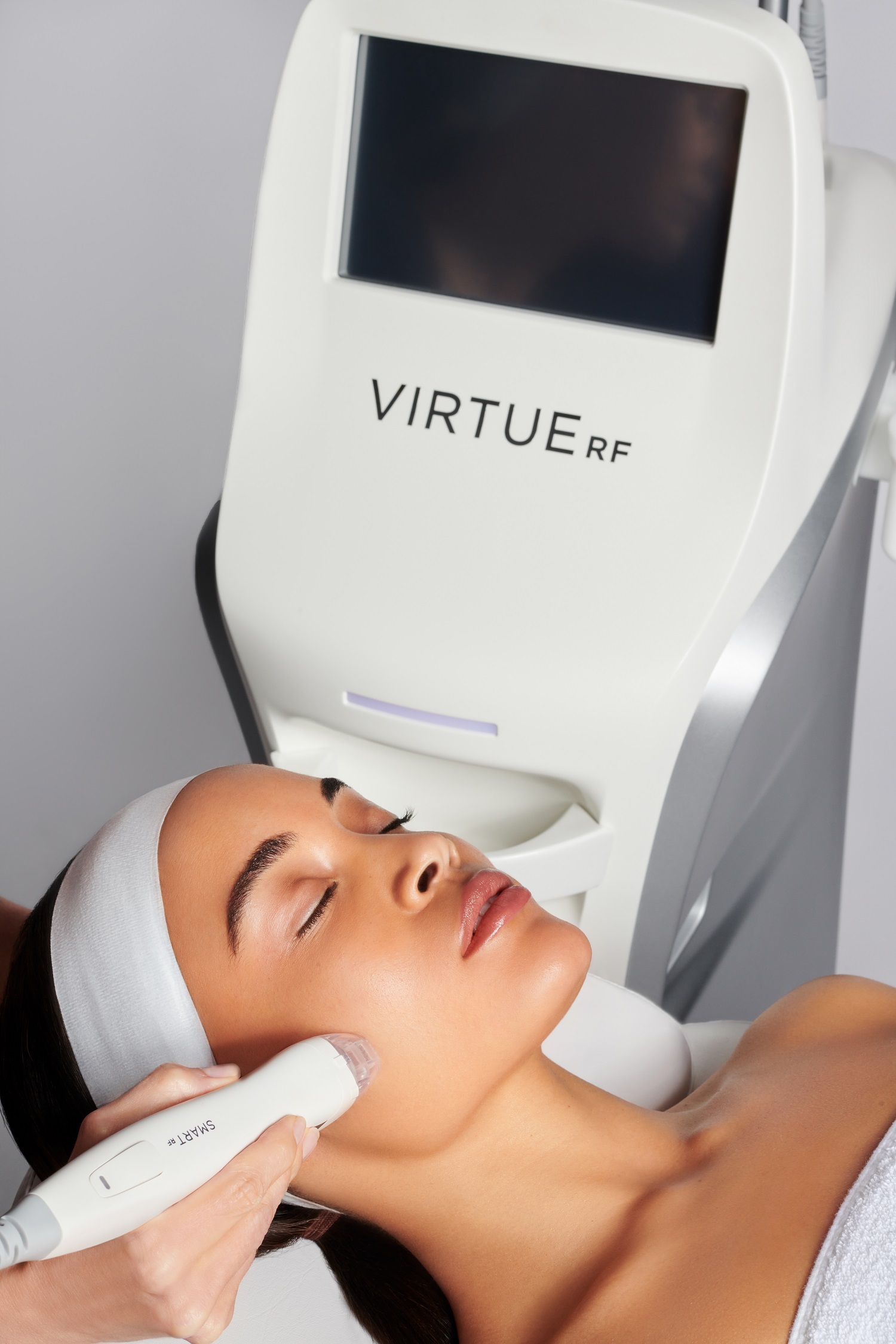 Virtue RF Microneedling

in scottsdale, AZ
Virtue RF Microneedling is a state-of-the-art, FDA-cleared treatment that combines the power of microneedling with radiofrequency (RF) technology to rejuvenate your skin. Offered at Source of Health in Scottsdale, AZ, this cutting-edge procedure uses fine needles to create controlled micro-injuries in the skin, which are then treated with radiofrequency energy. This stimulates collagen production, effectively reducing facial wrinkles, lines, and acne scars while tightening and toning various areas, including the face, neck, hands, and body. Results are often visible after only one session, and the longevity of these results can vary but are generally long-lasting with proper skincare and maintenance.
If you're in Scottsdale, AZ, and are considering a skin rejuvenation treatment, Source of Health is your go-to destination for Virtue RF Microneedling. Achieve a flawless complexion and schedule your appointment online today! Our team of skilled and qualified providers looks forward to helping you reach your aesthetic goals!
Take your treatment to the next level! Ultimate Duo combines the benefits of Virtue RF + CoolPeel, a dynamic treatment that rejuvenates and restores your skin, reducing wrinkles, acne scars, and pigmentation issues. With minimal downtime and personalized care, our skilled aestheticians will guide you toward your desired skin goals.
Benefits of Virtue RF Microneedling
Benefits Of Virtue RF Microneedling
Frequently Asked Questions
Why Choose Source of Health?
Source of Health is more than just a medical spa and wellness practice; it's a sanctuary that seamlessly blends safety, efficacy, and luxury. Using state-of-the-art technologies, our adept professionals deliver results-driven, personalized care in a trusted and comfortable setting. Our conservative yet innovative approach is tailored to meet your individual needs, all while upholding the highest medical and ethical standards. This exquisite fusion of top-notch medical care and unparalleled comfort distinguishes the Source of Health experience, making us your premier destination for quality wellness and aesthetic services. Discover a haven where luxury and effective care coalesce, all designed with you in mind.
This place is incredible! No need for resort spa treatments anymore. They have an incredible array of treatments
I had the best experience with Lindsay Sorr. I went for a cool peel laser treatment and I am loving my skin. The texture and look of my skin is so smooth and vibrant. I am excited to go back for another treatment!
I love Dr Feria at Source of Health! She is beyond amazing! I go there for cupping and Sculptra treatments and I wouldn't go anywhere else! Besides the fact that she treats me like a friend who she genuinely cares about the treatments are amazing! And Tori at the front desk is always so sweet and happy! I'd recommend this place to ANYONE and EVERYONE!
Dr Sorr has been my naturopath for a year now and he's is very knowledgeable and professional to work with. I love getting my vitamins via drip therapy and keep up on my health with my doctor. Highly recommend trying him out and meeting the staff.